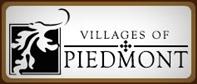 The Villages of Piedmont (VOP) is a planned community of 155 single family and 256 townhome units located in Haymarket, Virginia. Located approximately 30 miles west of Washington, D.C. in northwest Prince William County in the middle of the Virginia Piedmont, the Villages of Piedmont at is just south of Interstate 66 at the intersection of Route 15/James Madison Highway and Market Ridge Boulevard, less than one mile from the historic town of Haymarket, Virginia and is just half an hour from the Dulles International Airport. The project is uniquely situated at the midsection of the Journey Through Hallowed Ground National Heritage Area and Scenic Byway, a corridor long valued by conservationists and historians. 
Development started in approximately 2005 and was completed 2014. Surrounded by a 380 acre permanent conservation know as "Leopold's Preserve" the community has a clubhouse with two community pools: one full-sized swimming pool with lifeguards on duty and one smaller pool for toddlers. With multiple playgrounds, nature areas, picnic areas, and with being surrounded by nature, the Villages of Piedmont is indeed "The Natural Way to Live." 
The Villages of Piedmont's two playgrounds are located off of Market Ridge Road, one behind the community center pool and the other across from the community center next to the townhomes.  Two tennis courts are available for use adjacent to the Community Center and a basketball court and volleyball facilities are located within the townhome area. 
This community is a great place to live for all ages. 
VOP's clubhouse is located at:
16080 Market Ridge Blvd
Haymarket, VA 20169
Phone: 571-248-6630